Is There a Solution?
Peripheral Neuropathy – 
With breakthrough treatment, technology and nutrition we are able to do more for peripheral neuropathy and see great results better than ever before.
In the medical field, the treatment for peripheral neuropathy is anti-psychotic medication and it's classified as "incurable". In some cases that's true, but we have patient examples who saw relief from their peripheral neuropathy and were able to get back to their daily activities.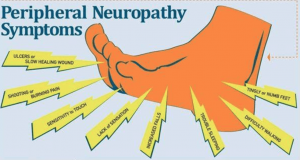 The cause of peripheral neuropathy is disc pressure on the nerves, diabetes, statin drugs or chemotherapy that damages the nerves. We don't just treat the symptoms we address the cause.
Peripheral neuropathy is one of the toughest conditions we treat. However, due to the treatment, technology and nutrition we incorporate, we are able to help the patient quicker, for longer and in some cases cure the condition.
Treatment:
Chiropractic Care – 4 adjusting modalities
Technology:
Infrared Therapy, Spinal Disc Decompression & Hot Laser Therapy
Nutrition:
West Coast Minerals
If you are dealing with peripheral neuropathy, we are here to help.