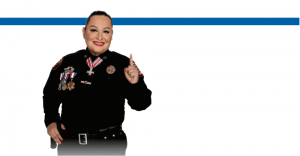 You might remember Stafford Police Officer Ann Marie Carrizales. Back in 2013, she took two bullets at point-blank range, one to the chest and one to the face, and still managed to chase down the alleged gunman. For years, even before the shooting, Ann Marie suffered from headaches, neck, back and heel pain. "Pain is a real problem in this profession," says Ann Marie, now with the Meadows Place Police Department. "We wear heavy vests and artillery belts. My pain was affecting my sleep. My doctors tried different medications and they worked ok, but I don't like taking meds. After the shooting, my headaches got a lot worse. I suffered from PTSD, and headaches are a symptom. Even nearly four years later, I felt my emotional health was better, but my physical was not. So I resolved to live with the pain. This was my life now." But a speaking engagement with the Sugar Land Rotary and Exchange Clubs changed Ann Marie's life.
Dr. Steve Harris of Sugar Land Health Center was in the audience that day. "Afterward he sent me an email," says Ann Marie. "He said he was thinking of ways he could help me. I researched him and found he has a great reputation for natural pain relief, so I gave it a try." At her very first appointment, Dr. Harris did a manual treatment that moved Ann Marie to tears. "Suddenly, my headache was gone. It was kind of like when your ear has been clogged forever and it pops. Suddenly you think, 'I can hear.' I couldn't remember the last time I didn't have a headache. I really didn't mean to cry in front of Dr. Harris, but I was so beside myself and overcome with emotion. That night I slept all night. My husband couldn't believe I didn't take any medication." A believer, Ann Marie started regular treatment with Dr. Harris. "The decompression treatments have done wonders for my back and neck, and laser treatments have helped my heel pain. Dr. Harris knows the body, and he explains in great detail what he is going to do and why. And it all makes sense. I like to watch him. Sometimes he closes his eyes when he's working. He says his hands become his eyes. You can just tell he is working from his heart and soul. My whole family now sees him. What he's doing is good for the body and excellent for wellness, and his office is a safe place for me."
"I now know I do not have to live in pain, and I'm shouting it from the rooftops. Every law enforcement officer should know about this. This profession is hard on the body, but Dr. Harris is brilliant. What a blessing he has been to me. He's improved my quality of life."
Well respected among his colleagues and the community as a philanthropist and humanitarian, Dr. Harris offers a wide variety of Chiropractic care, looking to the spine and lifestyle for the cause of disease. His specialties include; chronic pain, severe headaches, herniated and degenerated disc problems, sciatica, nutritional weight loss, pre and post surgical spine cases. Dr. Harris incorporates sophisticated technology in his treatment plan such as spinal decompression traction, custom made class IV hot laser therapy, along with personalized, hands on attention for pain relief.
Dealing with pain? Put your spine in the hands of experience.
Watch Dr. Harris' Video on his Chronic Headache Treatment featuring Officer Carrizales:
Treatment for Chronic and Severe Headaches by Dr. Steve Harris